Connecting system
The pressure switches are determinated to signalling of a medium pressure (oil, air, brake fluid etc.) in a pressure system of the followed mechanism.
The contacts, without any pressure in the circuit, are in unpinned position. They are closing by increasing pressure over the membrane at the pressure given on the motor body. At pressure drop the contacts are unpinning again. The material of membrane – a special rubber – guarantees constancy of the closed values. The switches are designed for twin-conductor connection of the circuit by the contacts breadth 6,3 mm.
The switches are gripped by the bolted connection, mostly by the thread M10x1, the taper 1:16. The contacts are protected against impurities and splash water by a rubber cover added for the special order.
This catalogue shows only basic models which can be, however, adapted to the customers wish.
Contact us.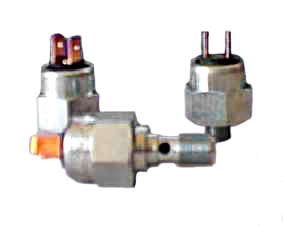 Download PDF: